WordPress Hosting Reviews
We have tested leading players in the wordpress hosting industry so that you don't have to.
WordPress hosting has come on in leaps and bounds in recent years. Hosts have recognised the explosive growth of the CMS and are now competing with each other to become the premier wordpress host.
One of the issues we feel best to clear up right away is that we only recommend managed WordPress hosting here (although Siteground is a sort of shared hosting on steroids) which is different from shared hosting. Shared hosting is the really cheap hosting that you can get which will include your site, your domain name and your email all for a low price of $5 a month. The problem is that if you experience any decent amount of visitor traffic, your website is very likely to go down, which if you are using your site for business – is a bad thing!
When it comes to selecting the host that you want to house your website/business, it is best to do so with some facts behind it. Things that should matter are; uptime, speed, support and when just starting out …price. Let's take a look at what we deem to be the leaders in WordPress Hosting and rank them by the categories listed above.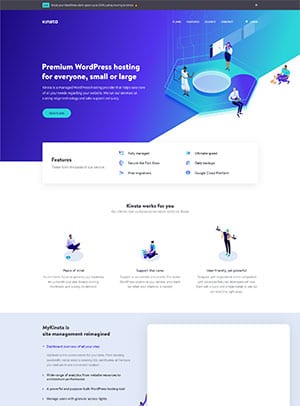 Kinsta – Our Choice for WordPress Hosting
Our pick for wordpress hosting is Kinsta. Their lowest plan comes in at $30 a month which is a little pricer but you are getting a premium wordpress hosting that is running on google's network. The end result – a seriously fast website backed by superior support.
Kinsta are based in Los Angeles, USA but have offices in London and Budapest and were founded in 2013. They now service many large well known brands.
Let's see how they did in our test;
Kinsta is by no means an entry level price at $30 a month but if that suits your budget, we do recommend that you give them a try. They do come with a 30 day money back guarantee. 
Kinsta does not have a live chat but instead have their own ticketing system running through Intercom and honestly it still feels like you are in a live chat. Their response to us was on average well under 5min even at various hours of the day. They have staff that are actual WordPress core contributors so when they say they are WordPress experts, they are. There is no tiered level of support but instead the first support staff you speak is skilled enough to see your issue through to a resolution.
Kinsta use Nginx, PHP 7, LXD software containers, and MariaDB to achieve their blazing loading speed. Their servers loaded on average in 402ms no matter what traffic we sent it's way.
Our server stayed up for the duration of the test with no down time.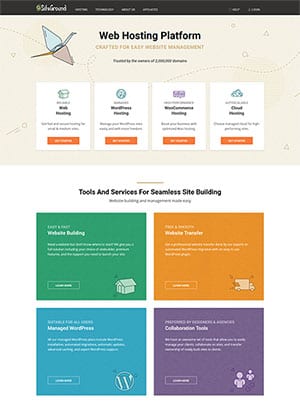 Our pick for entry level wordpress hosting has to be Siteground. Their lowest plan comes in at $3.95 a month for your first invoice. So if you take more than 1 year of hosting, you will only pay that price for as many months as you selected.
Siteground are based in Sofia, Bulgaria and were founded in 2004. They now service over 1m domains and are a recommended host of WordPress by WordPress.
Let's see how they did in our test;
Coming in at a low $3.95 a month they are the lowest of all the hosts we recommend. It is important to note that this price only applies to the first invoice, thereafter the price increases to $11.95 a month. They do however often offer a discounted price when you renew which still makes them the cheapest on our list.
In our experience, our wait time for a live chat was on average under a minute and most times it was instantaneous. If you are not a developer or server administrator, which most of us are not, this is a huge benefit. They are not only fast but also knowledgeable and willing to help. We asked a number of standard and non standard requests and they sorted around 95% of them. The remaining 5% was due to us asking them to change server configuration which on shared hosting is not advisable. All in all, we can only agree with the online reputation of having the best support.
Siteground's servers are setup using nginx and they have developed their own caching plugin to get the most out of them so their sites load fast. In our test the servers averaged a load time of 540ms.
Our server stayed up for the duration of the test with no down time.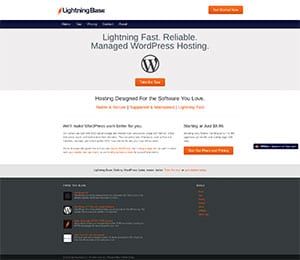 Lightning Base is our entry level pick if you are not in need of much tech support. Their stack is optimized for performance and it showed during our tests.
We have to admit that their website is not particularly appealing but are glad we still decided to give them a go as their performance is amazing.
The company operates out of Minneapolis, Minnesota, USA and has datacenters in Chicago, Las Vegas and Frankfurt.
Let's see how they did in our test;
Lightning Base plans are all charged monthly with the entry plan being $9.95.
This is the only company that we have used where you still get support from the CEO. When you do get support from Chris, the support is amazing. Unfortunately the same could not be said for the rest of the staff. It is most likely just a training period and they will hopefully all provide the same great service in the near future.
One thing to point out though is that the support, if you actually require them, has no live chat but is email based. This is not a big issue as they do reply relatively quick but you should not expect the response time of Siteground.
Lightning Base runs a traditional wordpress stack of Apache, PHP and MySQL with opcache and varnish fronting it. If that makes no sense to you just know it is fast …real fast. The servers averaged a load time of 395ms during our tests.
Our server stayed up for the duration of the test with no down time.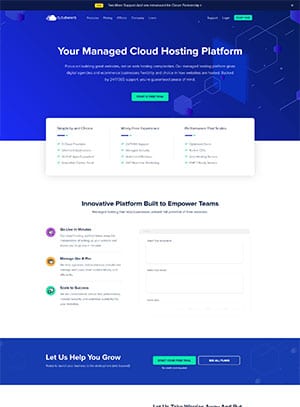 Cloudways are a little different in their setup as they make use of existing infrastructure that you can install their stack on. They offer Google Cloud, AWS, Digital Ocean, Linode and Vultr servers all around the world.
Cloudways is registered in Malta but from our experience, their support is remote all around the world. 
But how did they do in the test?
Cloudways' lowest price is on their Digital Ocean server and comes in at $10 per month. It must be noted though that this is the bare minimum server. They do charge extra for backup storage depending on how big and how often they are.
When we ran our test Cloudways was using live chat support that had an average wait time of 3min. The support staff were pretty good but not as good as the support we got from Kinsta. They also have a ticketing system for more complex issues and a premium support addon that allows for faster replies and also phone support.
Cloudways did really well during the performance tests. They managed a 347ms server response time over the tests that were run. It is probably worth noting that we tested the $44  Vultr plan but we are sure you should still get great results on lower priced plans.
The server managed a 99.99% uptime.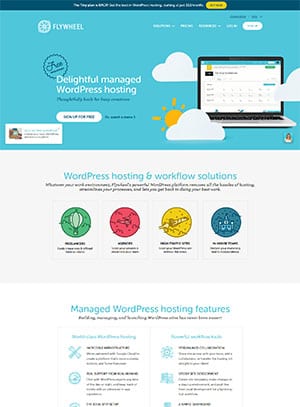 Flywheel are based in Omaha, USA and were founded in 2012. They have since redefined what WordPress hosting should be by creating a new experience.
Flywheel has a particular client in mind and they do it well. In our opinion, if you are an agency or freelancing web designer Flywheel would be a great fit as they have a feature that allows you to pass the billing on to your client while you still have administrative access. We love that!!
Let's see how they did in our test;
Flywheel has an entry plan that runs at $15 per month or $13 per month if you sign up for a full year. Their lowest plan does not support Multisite.
We were quite impressed with Flywheel's support. They have 24/7 support and seem quite knowledgeable. It was a pleasure dealing with them. While they are not as fast to reply as Siteground, they are courteous and detailed in their replies.
Flywheel kicked out a few errors when we loaded their sites with many users which caused the loading time to go up to 7s. Prior to the errors the servers were loading at a respectable 534ms.
*****UPDATE*****
Flywheel has since migrated their hosting to Google Cloud and upgraded much of their network. We are yet to test them again so these numbers may have improved.
*****UPDATE*****
Flywheel has since been bought over by wpengine.
Our server went down on three occasions which left us with a 99.83% uptime.
WPEngine was one of the first managed wordpress platforms on the market. Back then they were the go to managed hosting if you were using wordpress. They have grown since then and added services to their offering. In 2018, they acquired Studiopress – the creators of the Genesis Framework – and added it to their hosting plans. This means that with your hosting plan, you gain access to 35+ premium themes to use for your website.
That is great value for your money but the big question is, how did they hold up in our test?
WPEngine have a number of plans available ranging from $35 – $290 per month. They also have custom plans available if your website outgrows their plans.
WPEngine support is via live chat 24/7. They have a number of english speaking experts that are available at a moments notice. We did experience a few conflicting results when dealing with them but this has become a regular occurence in the digital world. Overall it was a decent experience.
WPEngine did not do as well as we expected on the performance test. While they did kick out a respectable 385ms response time, they did experience a number of errors. It should be noted that the errors might have been security related.
WPEngine managed a 99.99% uptime which was most likely due to the security errors that were experienced during the performance tests.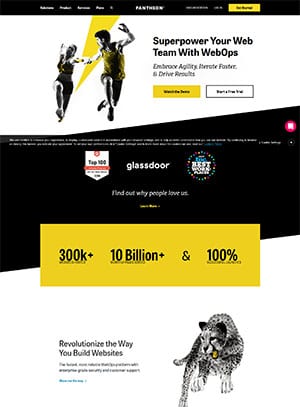 Pantheon hosts many big names such as Yale, IBM, United Nations to name but a few. These brands require their sites to perform well and Pantheon does not disappoint.
Pantheon plans start at $50 a month when paid annually. They do have a preferred pricing model too which can bring your monthly cost down to $29 a month when paid annually or $35 when paid monthly. For this you get a total of 25k visits a month. If you exceed that amount, you are charged $2.50 per 1000 visits. 
Pantheon is very good at what they do and their support knows WordPress well.
While having to pay for an overage is never appealing, when you get an average response time of 128ms I think I can live with it. Pantheon is built for speed and it excels at what it does.
Pantheon managed 100% uptime throughout our tests.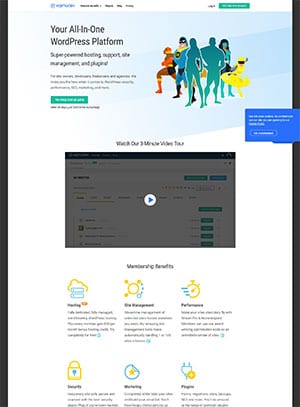 WPMUDEV is well known as a multisite plugin company. What is less known is that the company is actually backed by incsub who are the founders of edublogs – one of the largest multisites on the internet. They started offering premium enterprise hosting primarily to educational institutions and have now finally started offering cheaper plans aimed at small to medium businesses.
While you can get a site from as low as $10 a month, wpmudev's model is that they only sell hosting to their members. A membership will cost you $49 per month. The membership comes with a recurring $30 hosting credit. The remaining $19 is covered by 24/7 WordPress support (and by WordPress – they cover EVERYTHING wordpress, not just their hosting) and access to all their premium plugins such as a security plugin, a caching plugin, a marketing plugin, a form builder plugin and an analytics plugin.
Support is where wpmudev trumps many of the other managed hosts. The reason for it is that you will rarely hear "Oh that is not in our scope of support" as they cover everything WordPress. If you want help with a css issue, they even help with that. Support is both live chat and ticket/forum based.
The response time during our test was slightly slower than a few of the other hosts but it did return no errors. With that they managed an average 585ms response time.
They managed a 100% uptime during the tests.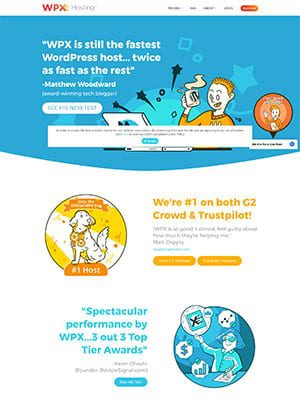 WPX Hosting, formerly Traffic Planet Hosting, is a privately managed wordpress hosting company based in Bulgaria. They are headed by Terry Kyle who built the platform due to his frustrations with all the other hosts that he had dealt with.
WPX Hosting plans start at $25 per month. On this plan you can host up to 5 websites within the resource allocation.
WPXHosting support is amazing. Their response was consistently under 1 minute and usually solved in under 10 minutes (on the rare occasion it required a ticket). There is no doubt their engineers are knowledgeable on WordPress and their responses reflect that.
If speed was one of Terry's issues with other companies, he definitely made sure it was not with his. An average response time of 154ms with no errors is quite something in our opinion.
WPXHosting managed a 100% uptime throughout our tests.
If with all that information, you are still not sure which host is right for you, perhaps we can offer our own opinion to help narrow it down further.
While we still believe that Kinsta is currently the best WordPress host,  it is worth noting that the best rated host is not always going to be the best host for you so it is best to look at which scenario you identify most with.
I am just starting out and require email hosting
If you are just starting out and require email hosting, we would recommend either looking at Siteground, WPX Hosting or Cloudways. Cloudways will charge an extra $1 per mailbox per month though while Siteground and WPX Hosting allow you to create unlimited mailboxes at no extra charge.
I need rock solid hosting to support my business
If you are looking for the best hosting to provide your website to global customers at great speed and uptime backed by industry leading support, your best option is either Kinsta or Pantheon.
I am a freelancer that would like to offer hosting to my clients
Depending on your clients' budget, you would be well suited to try either Flywheel, WPX Hosting or Pantheon.